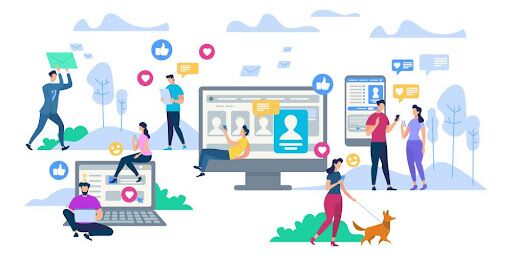 Today, social media has become an essential part of successful marketing. However, effectively using these platforms for your business requires more than just publishing content. Here, our effective social media marketing strategy will help you achieve your goals.
Creating a plan for what you want to accomplish and breaking down the steps to get there can make all the difference. So, where do you start your advertising strategy?
First, it's essential to know the goals of your social media strategy and understand how social media marketing works. Social media marketing uses social media platforms and social networks to market brands.
This marketing method allows businesses to reach current and future customers and will enable brands to express their mission, voice, and personality.
That being said, it is true that marketing is used through brand awareness, advertising, performance tracking, and customer service. Despite all these benefits, not using social media in your marketing strategy can be detrimental to your brand's success.
Now that we've discussed the importance of social media let's talk about what you should include in your strategy. Your social media strategy should outline your goals, how you'll achieve them, and the metrics you'll use to measure your progress.
The strategy itself should be flexible based on the target audience's changing needs and desires, as well as cultural trends such as popular patterns. When creating your social media strategy, keep these simple steps in mind:
1. Create Specific Goals That Align With Key Business Objectives
Goals are integral to your effective social media marketing strategy because it's the best way to track your progress and measure your success. Plans should follow the S.M.A.R.T structure.
This allows you to track your performance and, more importantly, track areas for improvement.
As for what metrics to look for when tracking these goals, look at metrics related to your goal's performance.
Sometimes just because an ad gets a lot of likes doesn't mean your brand is doing well. Find metrics like saves, likes, shares, and comments. Time people watch your video, time social media users spend on your website, and more.
The insights you get from these numbers show how engaged your audience is with your brand. You can use this information to determine if you need to change your policy.
2. Define Target
When you have an idea of the goal you want to achieve, it's time to think of someone who can help you achieve the goal. Yes, customers! Understanding the demographics of your target audience, etc., is essential to achieving exemplary customer engagement and loyalty.
Create a customer profile questionnaire that includes the following questions:
How old is my client?

What are my customers doing?

What is my client's annual income?

Where are my customers?

What is my customer rate?

How do my clients work?
These questions will help you identify your target audience and show you how to best target your marketing to these types of people. This can be done by creating marketing and sound effects that resonate with specific audiences.
You can also learn more about consumer behavior on social media when your target audience interacts with content from brands like yours.
3. Complete SWOT, PEST, and Competitor Analysis
After defining your target audience, you can further research the market you are entering, where your business is currently located, and where your competitors are. Further analysis of this information can be beneficial in knowing what to include and what not to include in your marketing strategy and tactics.
SWOT analysis shows strengths, weaknesses, opportunities, and threats. You might want to ask yourself: what are the pros and cons of your business today? What opportunities and threats will you face? In addition to performing a SWOT analysis of your brand, you can identify areas of your strategy that need improvement and maintenance.
PEST Analysis stands for Policy, Environment, Society, and Technology. This analysis allows you to analyze social business issues that affect the business in which you operate. Once you understand security entirely, you can use this information to modify your policy if necessary.
Finally, competitor analysis, one of the most critical aspects of creating your social strategy, is a competitor analysis because it shows your competition and how and provides the information you need to differentiate your brand.
Here you can take inspiration from your competitors and create ideas to help you grow your brand and define your style.
4. Familiarize Yourself with Social Platforms
Part of your marketing strategy is understanding which platform will work best for your brand, how you plan to do it, and how to adjust your system accordingly.
Because what works on Instagram may not work on Twitter or TikTok. Each account on a different platform should reflect your brand and use platform-specific features.
Quality is better than value. Therefore, pick a handful of social platforms you want to focus on and create a detailed strategy for them. This can be done by researching what content is the most profitable across platforms, what is most popular across social media platforms (hashtags, songs, contests), what content is most interesting to your audience, and the unique features of each, with stories and reels and so on.
Knowing what each user group needs and wants to see on each platform can help you achieve your goals.
5. Maintain Harmony and Consistency
When and how often you post makes a big difference, so layout and consistency should be essential to your effective social media marketing strategy. It's something that, with a bit of trial and error, can determine which visitors are most engaged and what time of day they're most active on social platforms. Some of our favorite third-party platforms to help curate community content include:
Mailchimp

Hootsuite

SproutSocial
These platforms allow you to analyze social media and schedule content accordingly. These elements should reflect the spirit of the brand while working towards the goals it has set for itself. For example, you might want to follow various tactics, such as the 80/20 rule, where 80% of your content is focused on entertainment, education, and happiness, and 20% is for the marketing department.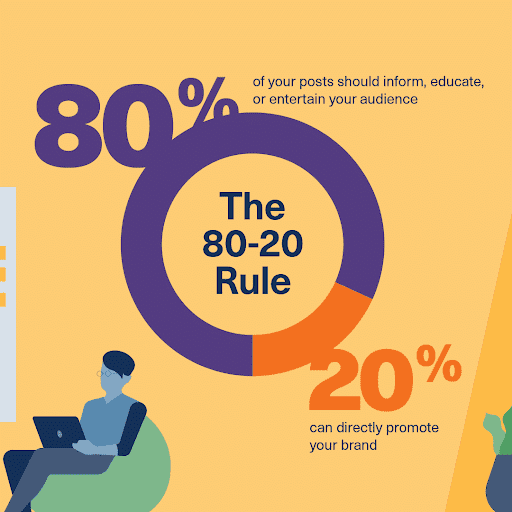 6. Keep Adjusting Your Strategy Accordingly
If you can't tell in the previous steps, adjusting your relationship strategy is a matter of trial and error, knowing what works best for you and what you should avoid. That said, embracing and adapting the available options is essential and knowing which votes are helpful for your goals and strategy.
Relationships are sometimes unpredictable, and you never know what the following change will be, how long it will last, or what new features to learn, so updating is significant!
These simple steps are just a few vital steps that Regards To Marketing recommends for helping you build a successful relationship. We hope this blog will help them develop ideas and get closer to achieving their goals.
Still don't know where to start? They are available to help! Contact the team at Regards To Marketing to help you create the best social and creative experience for your business. Our expert consultants, marketers, and innovative team are here to help.